We manufacture leather and sheepskin for many different sectors such as leather garment industry, footwear industry, automotive and paint industry in our leather tannery in Corlu. We supply products from our tannery to both our domestic customers and to many recognized companies in Europe and the Far East. We provide top class service with our expert employees, technological machinery park and long years of experience to our customers. In addition to our classic sheepskin products, we provide design support to our customers by applying contemporary trends and new innovations to sheepskin as a result of our R & D studies.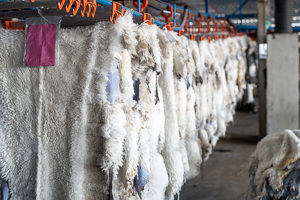 Raw sheepskin delivered to our factory is firstly sorted according to their quality, wool status and diameters. Each segregated category is processed according to its objectives. Sheepskins  are washed first to remove any surface fat, subsequently they are treated with mild acids such as formic acid to prevent damage from bacteria and viruses and chromium and various tanning syntans to prevent decomposing and odor. Various technological machines ensure that suede and fleece are clean and bright. After being dyed with the desired color with dyes which do not contain carcinogenic substances and comply with European standards, the sheepskins are readied for sale by being finalized in our technological machinery park by our skillful masters. These procedures applied to sheepskin takes between 21 and 30 days. Sheepskins go through approximately 18-19 different stages using more than 100 chemicals, 40 machines and hand work.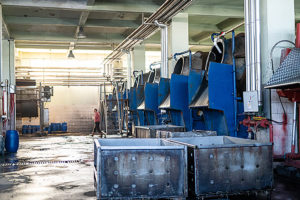 Wooden machines are used instead of technological iron or fiber machines in the manufacturing of natural and medical sheepskin. The technologies and production techniques of such leathers are completely different from those used in other areas. Heavy metals and chemicals that are harmful to human health are not used in these leathers treated without chrome. You can get more detailed information about medical sheepskins from this link.
In addition to selling our products directly  our sheepskin factory, we also carry out contract manufacturing. You can contact us from this link to get more detailed information on the subject.