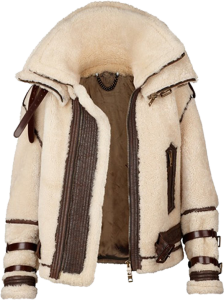 The Turkish shearling industry is a growing and responsive sector in terms of production value and export potential. The Turkish leather sector is well-known for its experience, high quality production capacity and affordability.
Erdogan Deri's production power, skilled staff and sheepskin expertise make us one of the leading companies in this industry, thus we are supplying custom-made shearling jackets and vests to our customers besides supplying sheepskins.
Our team at Erdogan Deri is able to handle every step of the production with sensitivity and high level customer service: Design to pattern, pattern to production. Over the years, we are the strong, flexible and reliable supplier of many European brands for leathers & shearlings.
At Erdogan Deri, our goal is to provide the best service. Design, fit, production and shipment are all the result of high quality and disciplined work. The reason behing our success is based on our sheepskin expertise and work ethics.
We exhibit and closely keeps track of leather trade-shows, international market-developments and all the new trends in the world to supply best materials to our customers.
The patterns of the styles are prepared according to customer specifications by our high skilled technical team. The leathers and shearlings are developed in our tannery upon our customers request. We are working with the Pantone colour scale to provide exact colours. We are offering wide range linings and accessories to fit chosen leathers and shearlings.
Determining the all kind of materials and accessories, and bringing them all together is a highly sensitive process, which requires very detail oriented careful work. Our success in this area in once again the result of professional coordination from an experienced and qualified management team.
When the orders are received, a detailed production plan is prepared based on our customers final requirements.
The production plan includes: obtaining and preparing the leathers, materials and accessories. Cutting, sewing, finishing, quality-control, sampling, packaging and loading, customs operations, delivering are all included in this process.
We are conducting our all operations with a great diligence and confidentiality. However, we are appreciated to  be controlled in our all processes by our customers.