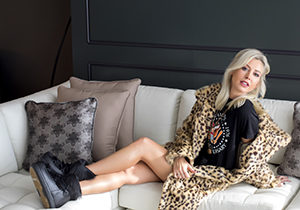 Thanks to the power of our leather factory in Corlu and our knowledge of leather garments, we run the procurement processes of special-design leather jackets and sheepskin coats produced in Turkey for our customers with international recognition.
After making the moulds of designs coming from our customers, we prepare samples. We make all necessary corrections until the prepared samples reach perfection and we proceed to the order phase. In these processes, we support our customers' design works by offering alternative materials, color options, accessories and different production techniques.
We develop special sheepskins, prints and finishes for our customers by using our fur expertise and production power together with the trend information we obtained from the international fairs we participate and follow. As a leading manufacturer of sheepskin industry with our tannery and expert team, we are able to fulfill the most difficult demands of our customers in the fastest and most qualified way.
If the order is confirmed after all the R&D works, we prepare a production plan in accordance with the demands of our customers. In this process, we organize material supply, production processes, quality control and shipment stages.
All these works that we carry out with great care and confidentiality are always open to the control of our customers who place the order, and our customers' visits make us happy. Thanks to our expertise in sheepskin, cavallino (hairy calf leather) and leather, we provide all the materials our customers want, we can solve all the works in a single point and support our customers in saving time and optimum cost issues.
In addition to the leather & fur clothing collections we prepare specially for our customers, we prepare fur coats and vests collections with Pegia brand. Thus, fur, which is both a luxury and a need in winter months, is transformed into an affordable luxury and trendy products.
From design to mold work, from manufacturing process to end user, all work is a product of high quality and careful work. We strive to achieve excellence through our years of production power, knowledge and professional team.