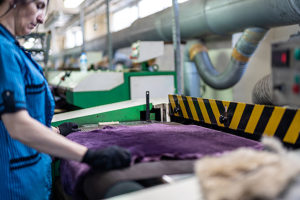 Founded in 1998 as a leather factory, Erdogan Deri expanded its business lines in the process to include a sheepskin workshop. In addition to supplying sheepskin to manufacturing companies in footwear, apparel, polishing market; the company manufactures products designed from sheepskin for its brands that are increasingly recognized and for its European customers in its sheepskin workshop.
In addition to the market-recognized chromium tanning process, sheep skin is tanned with herbal and medical tanning methods in our tannery. As one of the pioneering tanneries of the leather sector with our professional team, technological machinery park, knowledge and international business partnerships, we continue our activities as a reliable and strong supplier of our customers. For more information about our company please visit the page "Erdogan Deri?"
Our mission is to act in a customer-oriented manner and contribute to Turkey's employment and exports with our innovative products and services as a leader company in leather.
Our vision is to protect the rights of all our stakeholders and make Erdogan Deri and its brands into brands that are sought and preferred throughout the world with the least environmental impact.
We strive to contribute continuously to the development of the environment and society we live in within the framework of our Corporate Social Responsibility principles. We work for the realization of collective development by taking the benefit to  society into consideration in our commercial investments and initiatives by creating an environmentally conscious production approach.
We aim to continuously improve our quality management activities with the contribution of all stakeholders and we are producing recyclable, eco-friendly production in compliance with European Standards. We process corrective and preventive actions at every level in order to intervene in the production processes in a timely and systematic way and not to repeat the same mistakes.