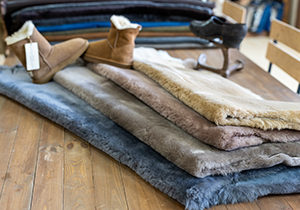 We produce sheepskin for the footwear industry, in categories of double-face suede, finishing & printed skins and sheepskin lining. We add season colors and trends to our collection with the guidance of Lineapelle and Premiere Vision fairs we attend every year. In addition, in line with the needs of our customers, we can produce sheepskins in the desired color, finishing, coat length and fineness. Many famous European shoe manufacturers and brands use Erdogan Deri sheepskins because we produce very fast solutions to the needs of shoe factories.
In our leather laboratory in our tannery, we complete the sample requests in 2-3 weeks and present them to the approval of our customers. You can get detailed information about our leather factory, which is operated by a team of experts, with our technological machinery, from here. You can contact us easily via the mail address sales@erdoganderi.com.tr  for samples and all other requests.
We understand the needs of our customers in the shoe industry through the experiences we have gained from our footwear production. In this way, as a solution-oriented and reliable sheepskin supplier of our customers, we support their production processes. We are presenting new developments to our customers with our experienced technical team who closely follow the technology and developments. As a result of the importance given to the environment and human health in recent years, we also have sheepskins processed by vegetative tanning method. We also produce extremely soft and functional sheepskins using Easy White Technology. Detailed information about Easy White Technology is available here.
There are no "AZO", "Formaldehyde" and "Chromium VI" chemicals, which are harmful to human health, in our sheepskin and leather products. The related test results are available here. We attach great importance to the protection of nature and keeping it clean as much as the importance we attach to human health. For this reason, we ensure that all wastes from our factory are sent to recycling companies or treatment plants and recovered to a certain extent.