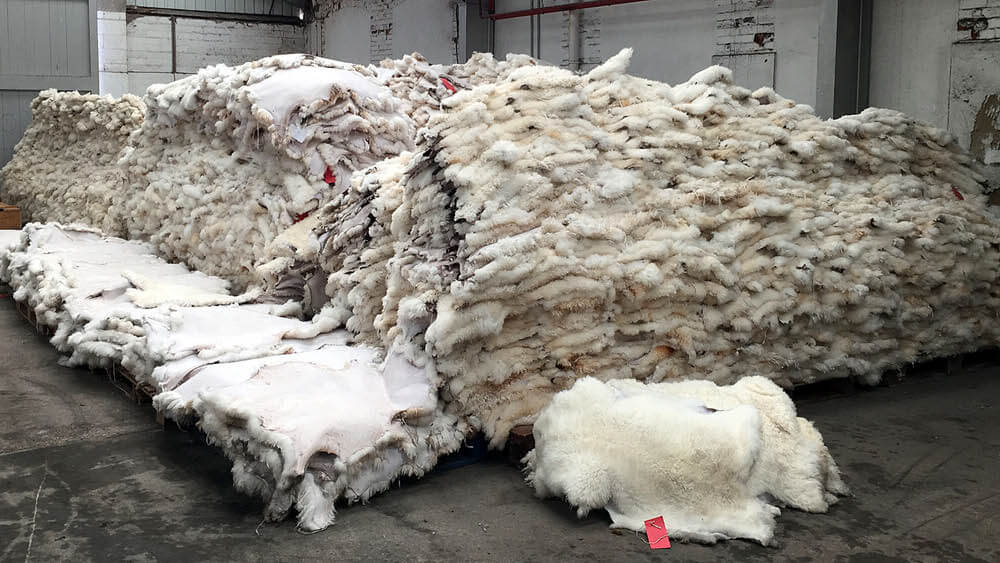 06 Feb

Sheepskin Manufacturers in Turkey

Sheepskin is a very important and valuable material used in the production of many other products. Its history goes back to ancient times. It has been used in the production of clothing, shoes, and household goods for many years. After the sheep's skin is flayed, it is offered for sale by the producers after many physical and chemical processes. There are more than five hundred sheepskin manufacturers in Turkey. While some of them, sheepskin tanning companies, deal only with the tanning process, some companies like sheepskin wholesale manufacturers take on the role of sheepskin supplier and sell the skins to other companies for the purpose of other produced goods, like sheepskin rug manufacturers.
What is Sheepskin Manufacturing?
Sheepskin manufacturing is the process of subjecting sheepskin to physical and chemical processes and making it usable. Raw leather is produced in different ways in line with needs. This job has a long and deep-rooted history. Since ancient times, people have processed and produced sheepskin for different purposes such as producing dresses, shoes, ornaments, and daily used items. Sheepskin manufacturers make raw sheepskin ready for use in various stages. These stages can be summarized as soaking, fleshing, scouring, pickling, dying and stretching & drying. For sheepskin manufacturers UK, Turkey, and some other countries are in high demand.
Conditions of Sheepskin Manufacturing in Turkey
Turkey is one of the leading countries in sheepskin manufacturing and export. European countries are in first place in the export market. Since the geographical conditions, breeding traditions and consumption habits of Turkey are in good condition, sheepskin production stands out. As of 2020, there are 539 leather production facilities in 14 different production regions in total. Sheepskin is mostly used in the clothing industry.
Leader Sheepskin Manufacturers in Turkey:
For sheepskin manufacturers Turkey is one of the most convenient countries. Leather manufacturing, a sector in which Turks have been operating since the 15th century, showed its existence after the Republic thanks to various encouraging and supportive measures. The private sector's increasing initiatives in Turkey since the 1950s also supported this. Sheepskin production is an important and highly demanded business line in Turkey. There are more than five hundred leather production facilities in total, and the quality of Turkish leather is well-known among customers.
The Sheepskin Brand: Erdogan Deri
Erdogan Deri, which is one of the leading manufacturers and is internationally known, was established in 1998 as a fur tannery, it expanded its products to include its atelier that produces fur goods. Erdogan Deri provides fur for manufacturers in the shoe, apparel, and polishing market. Erdogan Deri also produces design products made of fur for its own brands. In the tannery, different tanning methods for sheepskin such as chrome tanning, herbal and medical tanning.
Sheepskin Production Prices in Erdogan Deri
Sheepskin production prices can vary from year to year. It varies according to the amount of sheep meat production in the country and the price at which sheep brands sell the sheepskin. Reasons such as economic conditions, climatic conditions, and drought in the country may also cause an increase or decrease in sheep production.
Erdogan Deri continues to be one of the leading companies in Turkey with its high-quality products and various product ranges! You're in the right place to meet everything needed for leather products.
FAQ
What are the differences between sheepskin and shearling?
Sheepskin and shearling are often confused with one another. Even though both of them are produced from sheep, there are some differences. The first thing that makes them separate is the way they are processed. While sheepskin is tanned, shearling is sheared. Tanning makes sheepskin more soft and supple while shearling makes it more plush and warm. Another difference is their texture. Sheepskin is more smooth and it is possible to see particular patterns as a result of the tanning process while shearling has a fluffy texture. 
Are there any government regulations that impact the production of sheepskin in Turkey?
There are more than one government regulations that affect the production of sheepskin in Turkey. These regulations are regulated according to environmental impact assessment reports and are mostly associated with cattle breeding. In Turkey, these regulations are determined by laws such as environmental law or rangeland law, international conventions, and European Union directives. 
What are the leading sheepskin manufacturers in Turkey?
There are lots of sheepskin manufacturers in Turkey. Erdogan Deri is the leading and one of the most well-known brands. 
Contact now for more detail.
Sources:
http://www.turktarim.gov.tr/Haber/416/kucukbas-hayvan-varliginda-avrupa-birincisiyiz
https://hlccevre.com/Pdf/ham-deri-isleme-tesisleri.pdf
https://www.aa.com.tr/tr/ekonomi/turkiyede-ham-deri-ihtiyaci-surse-de-ihracatin-buyumesi-bekleniyor/1707504